A dynamic leadership team is poised to leverage the firm's success in identifying and capitalizing on opportunities in both domestic and international markets.  As the demand for high quality alternative investments continues to grow, AR Global will remain an innovative industry leader.
Michael Weil - Chief Executive Officer

Mr. Weil serves as Chief Executive Officer of AR Global. Formerly, Mr. Weil served as Executive Vice President of AR Capital, where he supervised the origination of investment opportunities for all AR Capital-sponsored investment programs. In addition to his duties, Mr. Weil served as President of the Board of Directors of the Real Estate Investment Securities Association (REISA), a leading alternative investments association providing education, networking and advocacy for members.
Prior to the establishment of AR Capital, Mr. Weil served as Senior Vice President of Sales and Leasing for American Financial Realty Trust (AFRT), where he was responsible for the disposition and leasing activity for a 37.3 million square foot portfolio.
Louisa Quarto - Executive Vice President

Louisa Quarto currently serves as Executive Vice President for AR Global. Ms. Quarto brings AR Global more than 20 years' experience in the direct investment industry. Most recently she was President of Realty Capital Securities where, over her eight year career with the firm, her responsibilities included overseeing national accounts, operations, due diligence and compliance activities for the firm. During that same timeframe Ms. Quarto served as senior vice president for AR Capital. Prior to that, from February 1996 through April 2008 Ms. Quarto was with W. P. Carey & Co. LLC, most recently as Executive Director and Chief Management Officer of Carey Financial, LLC, the broker-dealer subsidiary of W. P. Carey, where she managed relationships with the broker dealers that were part of the CPA® REIT selling groups. Ms. Quarto earned a Bachelor of Arts from Bucknell University and an MBA in Finance and Marketing from The Stern School of Business at New York University. She also has held FINRA Series 7, 63 and 24 licenses, co-founded and chaired the Investment Program Association's, or IPA, Women's Initiatives Committee. Ms. Quarto served on the IPA Board of Directors from 2000 through 2012. She is also a board member for Arya's Kids, a foundation that funds research to find a cure for pediatric cancer and initiatives that support more advanced cancer treatments with fewer and milder side effects.
Katie Kurtz – Senior Vice President, Finance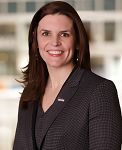 Ms. Kurtz serves as Senior Vice President, Finance of AR Global. Prior to joining in July 2013, Ms. Kurtz was employed as a vice president by The Carlyle Group ("Carlyle"), where she served as chief accounting officer for Carlyle GMS Finance, Inc., Carlyle's business development company. From 2010 to 2012, Ms. Kurtz served as director of finance and controller for New Mountain Finance Corporation ("New Mountain"), an exchange-traded business development company. Prior to New Mountain, Ms. Kurtz served as controller at Solar Capital Ltd, an exchange-traded business development company, and in various accounting and financial reporting roles at GFI Group, Inc. Ms. Kurtz began her career at PricewaterhouseCoopers, LLP. Ms. Kurtz is a certified public accountant in New York State, holds a B.S. in Accountancy and a B.A. in German from Wake Forest University and a Master of Science in Accountancy from Wake Forest University.